Scott Jorgenson
Pastor
Pastor Scott began his ministry with us on June 1, 2018. He and his wife Lisa, married since 1983, come to us from First Baptist Church of Hudson, WI. They have two college-age daughters, Sina and Sara. The whole family loves to spend time in the woods, so they fit right in here in Boulder Junction. His warm heart has already touched us all. Stop in to say "hello" Monday-Thursday mornings.
Rhonda Sybeldon
Office Manager
Rhonda began as our office manager in June, 2018. She always greets everyone with a smile. Keeping the whole place running smoothly is her mission! You can find her in the office Tuesday-Friday mornings.
Glen Wildenberg
Choir Director
Glen has a life long passion for music that involves, playing, arranging and composing. He has been directing our choir since late 2014. Glen was a choir director and Worship & Music Committee chairperson for more than 24 years in Two Rivers before moving to Winchester, WI.
Ryan Adams
Outside Maintenance
Ryan began his position as Outside Custodian of Building and Grounds on April 1, 2019. Ryan lives in Boulder Junction with his wife Jill. They both work at the National Ecological Observatory Network in Land O' Lakes where Ryan is the lead lab technician. He enjoys woodworking and music. He has also done volunteer work for the Milwaukee County Parks, Great Lakes Alliance, and Urban Ecology Center. 
Lorine Walters
Organist
Lorine has been a member of the Community Church since she and her family moved to the north woods in 1980. Although primarily a pianist, she has enjoyed keyboard instruments of all kinds since her childhood. She comes to us with experience accompanying singers and instrumentalists of all ages, in school and in church.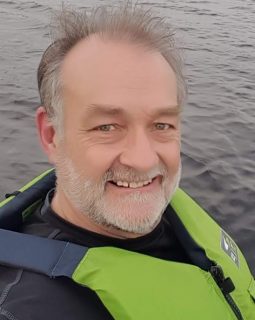 Bruce Greenhill
Treasurer
Bruce has been keeping the church books since 2009. He is responsible for reporting on the financial well-being of the church to Council. He also makes sure all Departments and Committees operate within their respective budgets. When not crunching numbers or playing with his abacus, he can be found in the cockpit of his kayak on the Gile Flowage, or XC skiing somewhere on the WI/UP border.
Cindy Wildenberg
Inside Custodian
Cindy has been our inside custodian since early 2017. She and Glen have three children, two in Wisconsin and one in Colorado, and have been blessed with eight grandchildren. Cindy has associate degrees in Early Childhood Education and Dental Assisting. Most of her career was spent in the dental field. She and Glen moved to Winchester in 2011 after vacationing in the northwoods for many years.